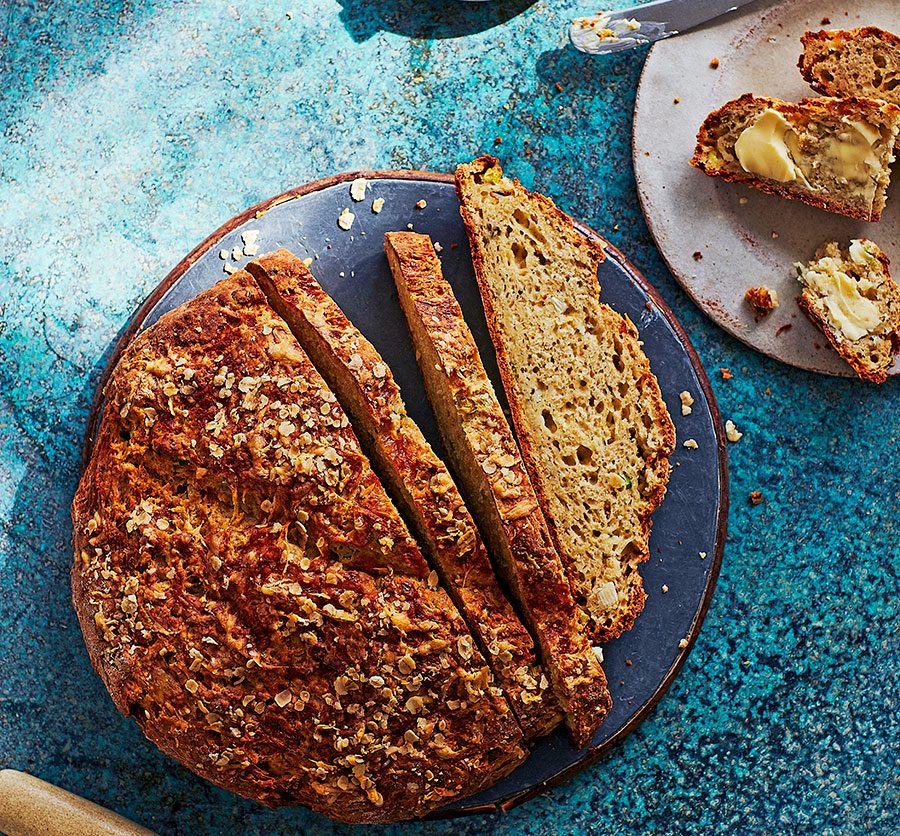 Make the most of oats, a cupboard staple, with this moreish cheese and spring onion soda bread. Enjoy with soups, salads or simply slathered in butter
Preparation and cooking time

Prep:

30 mins

Cook:

1 hr and 5 mins

plus chilling and cooling

Easy
Serves 8
Ingredients
120g rolled oats, plus extra for the topping
250g plain flour, plus extra for dusting
1 tsp bicarbonate of soda
150g mature cheddar, grated
4 spring onions, chopped
350ml buttermilk, plus a little extra (optional)
½ tsp Dijon mustard
Method
STEP 1

Heat the oven to 200C/180C fan/gas 6 and line a baking tray with baking parchment. Blitz the oats in a food processor until fine, then tip into a large bowl along with the flour, bicarbonate of soda, ½ tsp salt and 1 tsp freshly ground black pepper. Quickly mix together to combine. Mix in 130g of the cheese and all of the spring onions.

STEP 2

Mix the buttermilk and mustard together in a jug, then pour this into the dry ingredients and use a cutlery knife to quickly mix into a soft, shaggy dough. If the dough still looks dry, add another 1-2 tbsp buttermilk. Turn the dough out on a floured surface and knead briefly to just bring it together into a ball.

STEP 3

Transfer the dough to the prepared tray and flatten it slightly into a thick disc using your palm. Use a sharp knife to cut a very deep cross into the top, then scatter with the remaining cheese and a small handful of oats. Bake for 35-45 mins until deeply browned and the loaf sounds hollow when tapped on the bottom. Leave to cool on a wire rack before slicing and serving.